If you buy fresh produce from your favorite garden grocer, how sure are you that the produce is free of formalin, genetically modified organisms, chemical pesticide ? Is it grown using organic method ? By the way, how safe are organic farm produce anyway ? The list goes on and chances are you will never know.
And if you visit a restaurant, have you ever wonder why you are paying hard earn cash for a garden salad or a caesar salad that is made from iceberg lettuce ? Is it because iceberg lettuce is the only lettuce they can find, or is it because they dare not venture into the culinary innovation going on in a salad bowl which the rest of the world has been enjoying for the past 10-15 years ?
With FRESH FIELD, these concerns are well taken care of.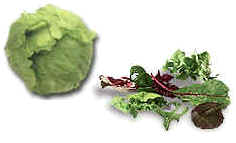 A salad bowl with a combination of colors, textures, flavors and shapes is surely more elegant and appealing than a bowl full of pail green ball of water we call iceberg lettuce.